Recently we have noticed scammers impersonating NewPages Recruitment staff on different social media and instant messaging apps.
Most likely they will pretend as our consultants with a fake name and business name card to approach job seekers, and offer freelance or part-time job opportunities which claim that could bring a high salary or commission without any experience. Victims may be requested to provide their phone numbers as part of the hoax, as well as to send money via bank transfers, wire transfers, or other channels as payment.
Here are some examples of spam messages and fake business card: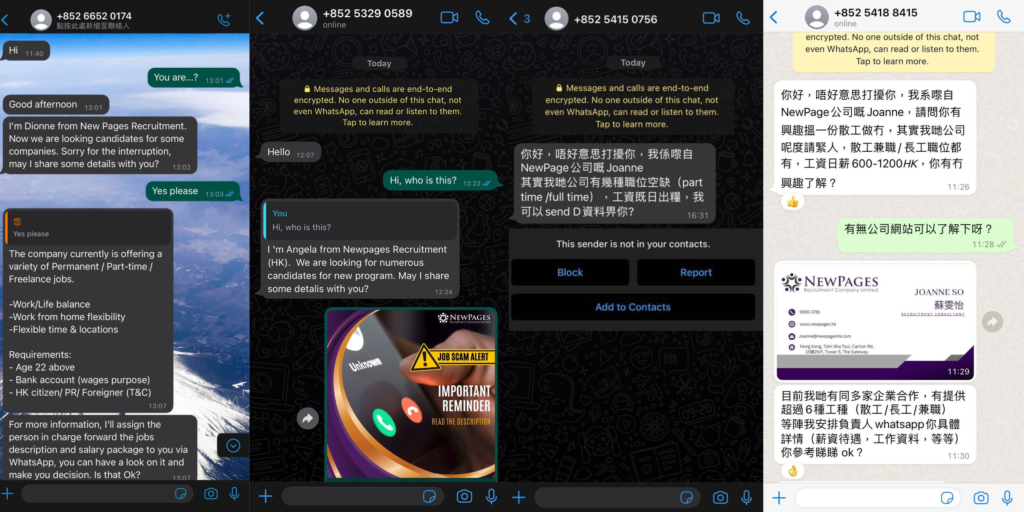 Our consultants never ask candidates to provide any sensitive personal information or request any fees to get/finish a job. For your safety in financial and data privacy, we would like to remind all of our clients and candidates to be aware of those scam messages and emails.
If you have doubts about getting a message that might be from us, you can have some precautions by doing this:
1. Verify the identity
Send an email to [email protected] or call 3598 3633 within office hours (Mon to Fri, 9:30 a.m. - 6:30 p.m.) to verify the identity
2. Check the email domain
Our official email domain is "@newpages.hk", for any other domains that would be a fake one
3. Never make any payment
If you are a job seeker, please bear in mind that we would not charge any fees for helping you get a job. For our clients, please further clarify with our account manager/consultant by phone if you received any specious payment requests.
4. Do not disclose your personal information
We never ask for scanned copies of a candidate's passport or identity card, driver's license, credit card, or any other kind of personal identification during the initial phases of the hiring process. However, our recruiting consultants might request your ID or passport number and require your permission before sharing your profile for the application. The Hong Kong Labor Department's regulatory obligations include these. You may visit the Labor Department's website for additional details on this rule.
5. Stop, Think, and Verify
Please hold off on contacting the person again or clicking any links in the message until you have confirmed who the message is from.
If you have received any suspicious messages, please report to us by sending an email to [email protected] or leaving a message here. Our staff will contact you shortly.
Stay safe, happy job seeking and be alert!