NewPages Recruitment Awarded "Leading Recruitment & HR Services Company 2023 - Hong Kong" by APAC Insider
We are thrilled to announce that NewPages Recruitment has been honored with the prestigious "Leading Recruitment & HR Services Company 2023 - Hong Kong" award by APAC Insider. This recognition is a testament to our unwavering commitment to excellence in the recruitment and HR services industry. We are incredibly grateful to our clients, team members, and partners for their continuous support, which has played a pivotal role in our success.


Delivering Tailored Recruitment Solutions:
At NewPages Recruitment, we take great pride in providing top-notch recruitment solutions tailored to the unique needs of our clients. Our dedicated team of professionals works diligently to identify and attract exceptional talent, ensuring that businesses have access to the best resources available. This award serves as a validation of our efforts and motivates us to push the boundaries further, always striving for excellence.
A Culture of Collaboration and Client Satisfaction:
We firmly believe in the power of collaboration and building strong partnerships. Our success is built on the trust and satisfaction of our clients, who rely on us to deliver outstanding recruitment and HR services. We understand that every organization is different, and that's why we take the time to understand our clients' specific requirements, enabling us to provide customized solutions that meet their unique needs. This award is a testament to the positive impact we have made in the recruitment and HR landscape in Hong Kong.
Acknowledging Our Team and Partners:
None of this would have been possible without the dedication and commitment of our incredible team members. Their expertise, passion, and unwavering focus on client satisfaction have been instrumental in our success. We are immensely proud of our team and extend our heartfelt gratitude for their hard work and professionalism.
We would also like to express our appreciation to our partners, whose collaboration and support have been invaluable. Together, we have achieved remarkable results and have contributed to the advancement of the recruitment and HR services industry in Hong Kong.
A Bright Future Ahead:
The recognition bestowed upon us by APAC Insider as the "Leading Recruitment & HR Services Company 2023 - Hong Kong" fuels our motivation to continue delivering exceptional services and making a positive impact in the industry. We remain dedicated to our mission of connecting talented individuals with organizations that will empower them to thrive and succeed.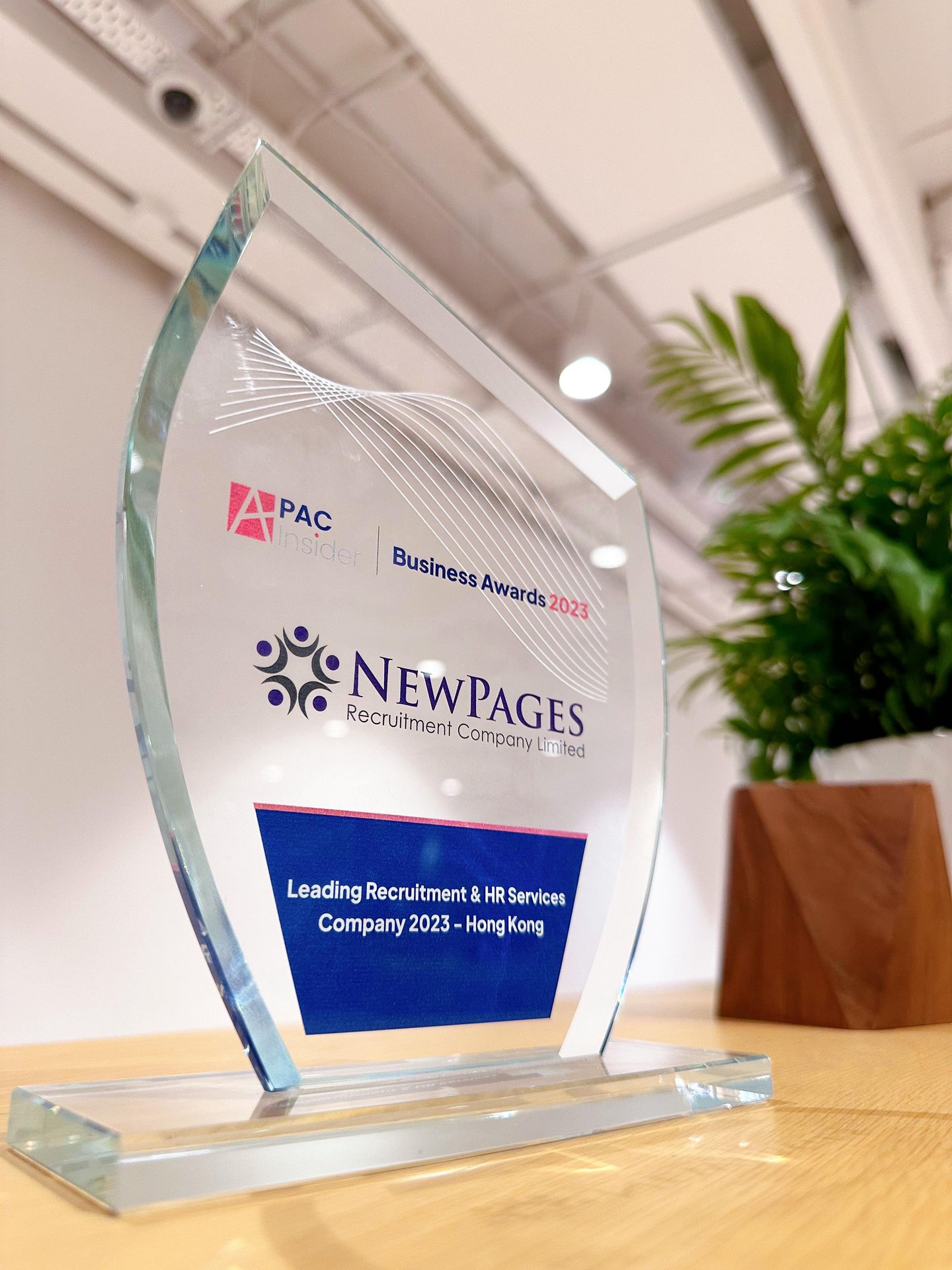 We would like to extend our sincere gratitude to APAC Insider for this prestigious award and for acknowledging our contributions to the recruitment and HR services landscape in Hong Kong. We are humbled by this recognition and will continue to work tirelessly to exceed the expectations of our clients and partners.
As we move forward, we remain committed to delivering exceptional recruitment solutions, fostering strong partnerships, and making a difference in the industry. We are excited about the future and welcome you to join us on this journey as we shape a brighter future for recruitment and HR services in Hong Kong and beyond.
Stay tuned for more updates and exciting industry insights as we continue to lead the way in the recruitment and HR services sector.